The Project
These centres offer tools, lifting equipment, plant and powered access machinery for hire and provide site surveys to customers. The Edinburgh centre is a purpose-built 22,000 square feet facility on West Edinburgh Business Park and is part of Speedy's network for air-conditioning solutions. The new Aberdeen centre covers 13,200 square feet specialising in lifting equipment and will also provide fencing and crowd control to support the recovery of North-east Scotland's events industry.
Our ability to undertake key manufacturing work at the USS Haverhill manufacturing facility allowed our client to benefit from a complete service in the creation of custom storage and work area solutions at both centres.
Our Client
Our client for this project was Speedy Transport Limited.
What We Did
Aberdeen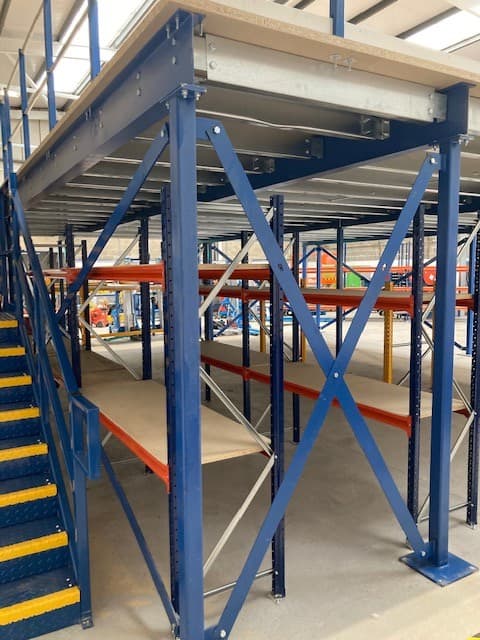 Speedy moved from their Aberdeen location in Anne Street to Denmore Industrial Estate. The expansion from a depot into a Regional Service Centre required additional storage space at the new facility. The Anne Street building already had a mezzanine floor, and Speedy considered relocating the entire floor to the new location. In the process of weighing up the costs of such a move, they requested a quotation for a brand new mezzanine.
The quotation provided by United Storage proved that a new floor would not only be more commercially viable but allow Speedy to build in some elements of customisation for the expanded range of products and services on offer.
Once our quote was accepted, we carried out a site survey and produced mezzanine drawings. Following the final design approval, the installation commenced.
The final installation was a 10m x 10m mezzanine floor with a 2.6m and 38mm decking finished floor level. The mezzanine included a handrail, one pallet gate and a staircase. In addition, we fitted five bays of retail shelving for merchandise. We installed 2m high x 600mm deep x 1850mm wide longspan racking to ensure no available space went unused, with two beam levels and a 25mm chipboard deck under the mezzanine
Edinburgh
Speedy requested a quotation from USS for tower racks, workbenches and retail shelving at their brand new purpose-built 22,000 square feet facility at West Edinburgh Business Park. On receipt of client approval for the quote, we visited the site to carry out a survey. We produced drawings and sent them for approval. Once approved, we set about the manufacture of the custom-designed scaffold-tower racking at our Haverhill factory before delivering to the site and installing it.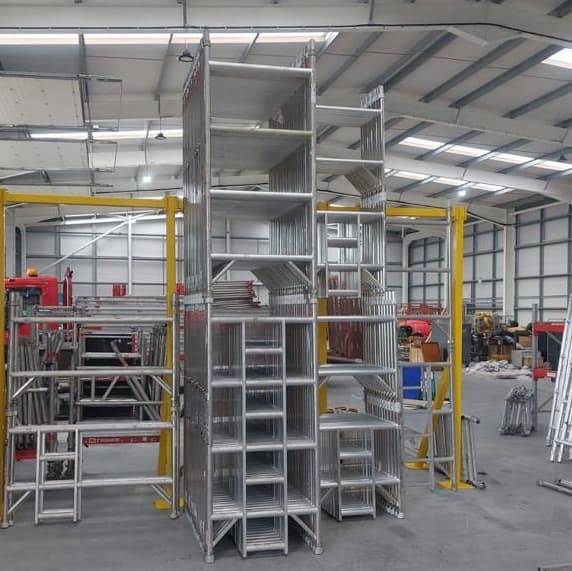 USS also assisted Speedy in installing existing Longspan racking relocated from their old premises to their new facility.
The completed installation consisted of two scaffold tower racks, one measuring 1 x 8000mm long x 1810mm and the other 1 x 8000mm x 3000mm.
Twelve heavy-duty workbenches, each 2000mm x 900mm x 900mm with a 2mm galvanised steel top cupboard were fitted, including support bars, louvre panels, light rail and light fitting. As well as this, we installed seven bays of retail shelving for merchandise.
And Finally
Another successful completed project for a valued client which included various projects all co-ordinated to complete within Speedy's timeframe. If you have a similar project or need help with a warehouse fit-out, you can contact a member of the USS team here.